This month's theme for the Phat Fiber Sampler Box was a little unexpected, and I really didn't think I was going to participate until one night when I was laughing over posts in the Rubberneckers group on Ravelry.
Like a lightning bolt, I thought of the funny Internet expression, "teal deer," which references a post where someone has pontificated themselves into oblivion. Respondents are forced to reply with "tl;dr" (too long; didn't read) or run screaming from the computer. Or both.

"A teal deer, eh?" I thought to myself. "Well, that's a horse of a different color, all right!" After all, the idiom "a horse of a different color' usually isn't talking about horses at all.
So without further ado, here are my brand new Teal Deer stitch markers, handpainted by moi in a gorgeous sparkly teal color so that you can chuckle over the inanities of life while knitting away on your newest project. Enjoy!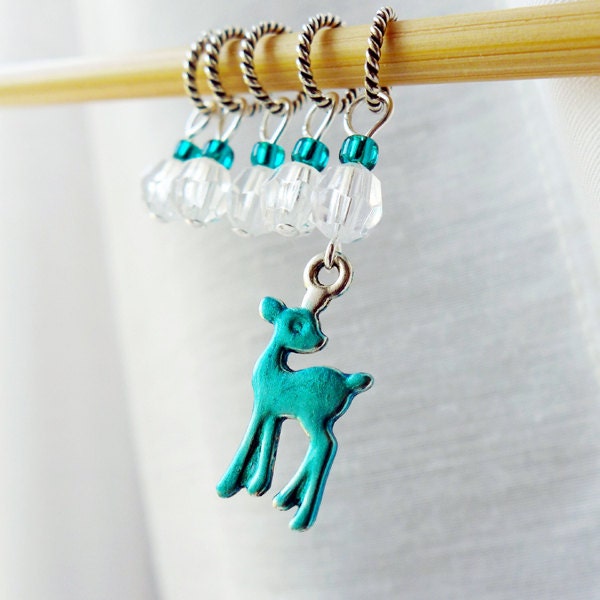 Don't forget, if you purchase anything in my store from May 18 – June 20 you are eligible for the Phat Fiber Superbox Giveaway! To win this month's Phat Incentive, which includes the contents of this month's Video (aka The Superbox) AND A $150 Gift Certificate to one of the participating shops, you need to join the Phat Fiber group on Ravelry and then post what you've purchased in the incentive thread.
Want to know how you can get one of these boxes? For a Phat Fiber community edited guide to snagging a box, visit this thread in the Ravelry group. The cost of the box is $36 including shipping. Good luck!
Enjoy the new design, which is up in the Exchanging Fire shop!