Well, my goodies arrived last week at the Phat Fiber headquarters, so here is the big reveal for the stitch markers I made to coincide with this month's Egyptian theme. Flight of the Butterfly is a very limited edition design, primarily composed of vintage beads, so don't hesitate to nab a set today!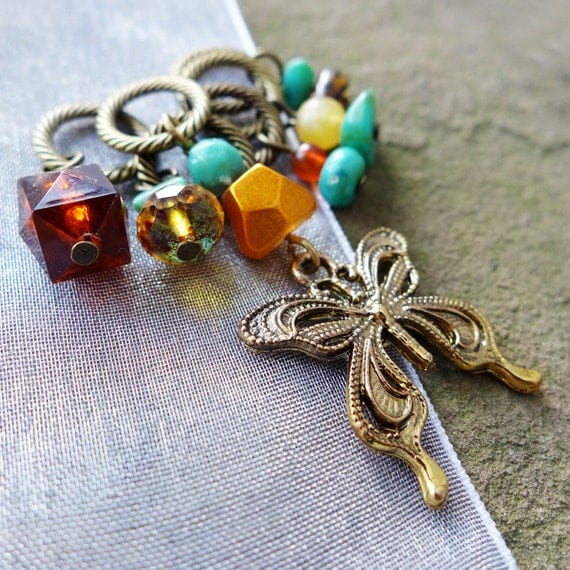 Butterflies were very rare in Ancient Egypt because of the harsh climate, and not much is known about how the Egyptians perceived them. There are some tantalizing clues, however, found in the tombs and hieroglyphics of Ancient Egypt, so I had a wonderful time researching this connection. My inspiration comes from the inlaid silver bracelets that were found in the tomb of Queen Hetepheres I. Made of silver, turquoise, carnelian and lapis lazuli, some researchers and scholars believe they were designed to protect her and help her to fly into the afterlife.
Butterflies, with their ability to "rebirth" themselves after "entombing" themselves as caterpillars, may have been greatly honored by the Ancient Egyptians. Ancient Egyptians may have seen a parallel between the linen wrappings on their dead and the chrysalis of the butterfly. When butterflies were featured on wall reliefs, their images tended to be overly large and placed close to the heavens or other symbols of life everlasting. This indicates not only their importance but also shows that they may have reinforced the Ancient Egyptians' concept of the afterlife.
Butterflies did not always stay in Egypt year-round, and often migrated from other more friendly climates, making a sighting of one a rare and beautiful thing indeed. The most common Egyptian butterfly, the Plain Tiger butterfly, is believed to be one of the first butterflies used in art in the world, making its way onto a 3,500-year-old wall design in Luxor, Egypt. Today, that fresco shows us a glimpse of the rich wildlife that was found in Egypt when the Pharaohs still ruled it.
I had great fun digging into this relatively unknown history about Ancient Egypt. If you are interested in finding out more about the beliefs that the Egyptians may have had toward butterflies, I highly recommend reading this master's thesis by Dawn Haynes from Stellenbosch University in South Africa.
Don't forget, if you purchase anything in my store from Oct. 18 – Nov. 15 you are eligible for the Phat Fiber Superbox Giveaway! To win this month's Phat Incentive, which includes the contents of this month's Video (aka The Superbox) AND two Gift Certificates to one of the participating shops, you need to join the Phat Fiber group on Ravelry and then post what you've purchased in the current incentive thread.
My stitch markers were featured at the 13:22 minute mark in the video:
Want to know how you can get one of these boxes? For a Phat Fiber community-edited guide to snagging a box, visit this thread in the Ravelry group. The cost of the box is $36 including shipping. Good luck!
Enjoy the new design, which is up in the Exchanging Fire shop!