Creating a new stitch marker design is a little bit like jumping off a cliff. Yes, I know that these beads and that charm and the little filigree accents are adorable, but will anyone else like it? Will it photograph well? Did I just spend a gazillion dollars on beads no one will want?! Eventually, you have to stop thinking about it and just shut your eyes and let go. The new design will either sink or swim, and there's no way of knowing if it will succeed until you take that chance.
Suffice to say, when a design that I love takes off I feel immensely pleased with it, like a proud mama duck who's duckling is clearly the best swimmer in the pond. And at the end of the year it's always fun to look back and see which stitch marker designs were the most popular, most loved, and most talked about. So, without further ado, these are a few of my favorite things!
This summer I stumbled across these awesome little acrylic beads that have a handpainted effect created by being hand-dipped in a variety of painted colors. The double (or triple) dipping creates this amazing swirling effect, much like one of my favorite childhood desserts, the marble cake. I always wanted to make one because it looked so cool, so these beads were like having my cake and eating it too, only without all of the carbs. They eventually became my Flying Colors of the Storm stitch markers, and I was thrilled to see how much everyone else liked them as well – I've had to reorder the beads three times since August because I was overwhelmed by the demand!
I have this awesome tissue paper that I love using when I ship out packages – it's white (so it matches anything) but it's got sparkles embedded in it that turns it from a Plain Jane into a Glittery Glinda type of paper. So when I saw these adorable enameled coin-shaped drops in what seemed like a million different colors I knew I needed to make stitch markers out of them. I usually avoid open jump rings because I'm paranoid about things catching on my yarn, but I made an exception for these little guys. They make the most perfect dangle-free stitch markers and they really do look like Confetti – I feel like it's a party every time I use them.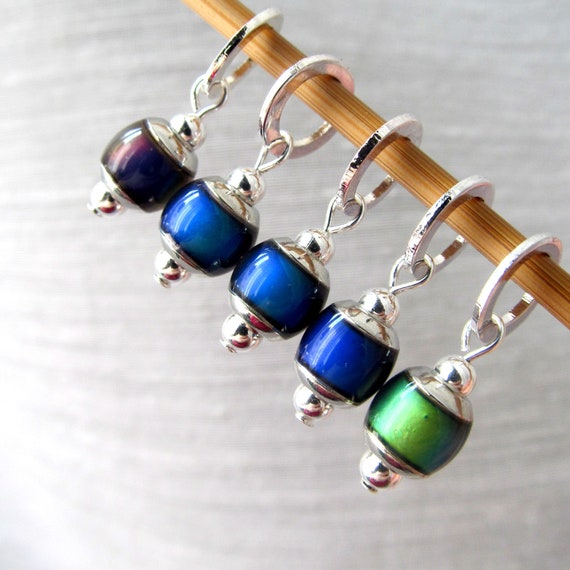 I first saw these color-changing beads over two years ago, and they took me back to the days of childhood when I had found my mother's old mood ring – a large, oval thing set in brass with an adjustable band – and wore it around the house as part of my queen costume. That outfit consisted of a long rust-colored '70s rayon dress with an attached cape, a real fox fur collar from the generation before that had been my grandmother's, and of course, my scepter – a glittery silver star wand.
I actually think the Secret of the Chromastone design was one of the first times I took a chance that an investment in a design would work out – I saved up for months and months before taking a deep breath and placing the large order for them. Beads that change color can be expensive, so I knew I'd need to price these markers a bit higher than normal and I hoped that everyone else thought they were as great as I knew they were. And you know what? They did! Currently over 200 sets of these awesome little stitch markers are all over the globe, hanging on people's needles and marking their stitches as they knit or crochet. They are probably the most favorite stitch markers of all.
I sang in an a cappella group in college, and one of my favorite songs we sang was an old classic from the '40s called the "Java Jive." The chorus goes, "I love coffee, I love tea, I love the java jive and it loves me! Coffee and tea and the jivin' and me…a cup, a cup, a cup, a cup, a cup." The way the words "a cup" roll off your tongue when you sing them repetitively is a great memory. Here's a great version from a German a cappella group if you'd like to hear how the song sounds.
But I have a confession to make – I don't drink coffee. I come from a family of tea drinkers, and while occasionally I have a toffee nut latte at Starbucks, it only happens once or twice a year. But you know what I do love? Chocolate-covered coffee beans. They are delicious! So nothing makes me happier than seeing cute little coffee beans hanging from knitting needles – especially when you are knitting in your favorite coffee shop.
There are some songs that just get stuck in your head like an earworm that will never leave. I Can See Clearly Now is one (I tend to sing that line when anyone exclaims, "Oh, I see!") and for some reason, the Spice Girl's non-hit If You Can't Dance is another. Then of course there is the opening song to the Disney movie Aladdin. While I was first designing these stitch markers that song – ok, the chorus – rattled through my head incessantly. I love Moroccan lanterns and beads that seem to light up from the inside. The ornate brass accents and rich colors make these stitch markers seem like they could light up Arabian Nights very well indeed.
These are some of the favorites from my shop, but there are loads more. I have special memories attached to each, be it the song they were inspired by or even sometimes what tv show was running in the background while I was working on them. What stitch markers are your favorites?